Merkel: Libya Becoming 'New Syria Proxy War' With "Enormous Floods Of Migrants"
3 min read
The continuing crisis in Libya has apparently been a central topic of discussion at the World Economic Forum in Davos this week, with German Chancellor Angela Merkel warning the gathering of world business and political leaders that Libya could become the new Syria. This following the Berlin peace conference of last weekend which failed to produced a promised ceasefire.
Libya is setting up to be ground zero for the region's next devastating proxy war, and it's even lately seen Syrian jihadists themselves pour in via flights from Turkey. Europe is also bracing for the next potential refugee and migrant wave due to the fighting. Merkel put world leaders on notice in her comments Thursday, saying "We have to be vigilant." She warned: "And now if we look at Libya we have to be very careful that the same doesn't happen there again."
"We made a first attempt and that's only a first attempt to find a solution for Libya, before Libya itself also falls into this trap of proxy war as we have seen it in Syria," Merkel said. "Let us all get together when those countries ask us to fight terrorism in their part of the world as we have done this with the overall coalition in Syria," Merkel added before the Davos audience, though not mentioning the West itself had a major part to play in orchestrating a war of regime change against Assad.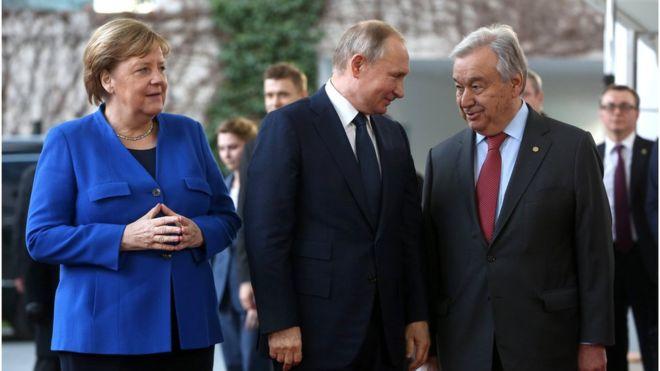 Though the war in Syria which has raged since 2011 is widely acknowledged to have for the most part ended with Assad and the Syrian Army victorious, in reality it's still grinding on in places like Idlib, occupied by al-Qaeda (HTS), and the north and northeast, with Turkey and American forces occupying Syrian Kurdish areas.
Most estimates put the Syria death toll from eight years of fighting at between 400,000 and nearly 600,000 people. And the world's most notorious terrorist organizations have arisen in that time, especially the Islamic State, which previously flooded into welcoming Syrian 'rebel' territories from neighboring Iraq. Some six million Syrians fled the country over the course of the conflict. In the case of Libya, after years of internecine fighting since Gaddafi's death, the cumulative death toll is currently not more than in the tens of thousands.
Merkel referenced the potential for a new explosion of refugees on Europe's shores due to the Libya crisis:
"We have to do more preemptively, do good for those countries in order to prevent these enormous floods of migrants," she said.
It must be remembered that to Germany's credit, it was perhaps the lone major European power that refused to support the US-French-NATO led military intervention which toppled Gaddafi in 2011. At the time German leaders actually argued that external intervention would destabilize the region further.
Libya could be the new Syria, Merkel warns.

There are similarities with international fighters exacerbating both conflicts.

But let's not forget how toppling Gaddafi affected Assad.

Weapons from Libya washed into Syria & Assad concluded the West was determined to kill him.

— Max Abrahms (@MaxAbrahms) January 23, 2020
German foreign minister at the time, Guido Westerwelle, warned a full eight years ago: "Your own instinct is to say 'We have to do something.' But military intervention is to take part in a civil war that could go on for a long time." He had pledged with the full backing of Berlin: "Germany has a strong friendship with our European partners. But we won't take part in any military operation and I will not send German troops to Libya."
Following through on the pledge, Germany had joined Russia, China and others in abstaining on the UN vote authorizing military action in Libya, which then imposed a NATO-led 'no fly zone' on the country. The resulting chaos of the Gaddafi government's collapse (with the longtime Libyan leader himself tortured and summarily executed by US-backed jihadist 'rebels' outside of Sirte), has led to over eight years of anarchy and renewed war, now with two main governments and opposing militaries vying for control — not to mention all oil exports have ceased within the last week.